Today is a clean-up day. (I included a couple of my mess photos later in this post for you to gasp and shake your head.) I gathered all my scraps and had some fun creating bookmarks from the oops and ends bin. Here are 4 fun bookmarks using project scraps, retired ribbons, and pre-stamped sentiments.
Each of the bookmarks is unique. Here are several of my recent bookmark projects.
I decided to do one unifying image. I choose to use the seahorse from the Seaside Notions stamp set. The seahorse and the dragon are in my logo which made that decision easy for me. Can you find any pieces that may have been used in other projects?
The one tool that was invaluable in this project was the Detailed Trio. There is a lot of bang for your buck in this punch.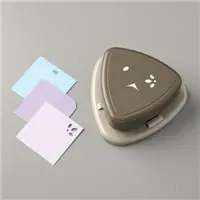 Here is my Craft Studio in all its glory and the aftermath of other projects. There are some partially completed card fronts. I like to let them sit by themselves a bit before I complete them. Who knows, maybe I will have a revelation. This mess may make you shake your head. I want to assure you that it does get cleaned up on a weeklyish basis.
Making smaller projects from scraps is fun. Don't worry about getting it all perfect. Creative expression is less about perfection and more about personalizing your project with color, texture and pattern. GO FOR IT!
I am throwing down the gauntlet … I CHALLENGE YOU to make something using your scraps and post it on Murray Stamps Facebook Page.
---
Let's Get Super Excited
You can order from my shop 24/7 or contact me anytime with questions.
Leave me a comment. I'd love to hear from you.

What did you like?
What would you like to see more of? 
Need help implementing a technique? Ask me and I will see what I can do.

HOST a WORKSHOP or CLASS? Contact me to get on the schedule. I will design a workshop based on your desires.
JOIN MY TEAM Purchasing the $99 Starter Kit is one of the BEST DECISIONS EVER! 
Visit my PROJECT GALLERY for more paper crafting inspiration.
Subscribe to PAPER PUMPKIN  and get a different creative kit every month.
SUBSCRIBE TO MY BLOG NOW!
Ask me how to get your FREE catalog.
I CAN SHOW YOU HOW TO TAKE YOUR CARDMAKING & SCRAPBOOKING TO THE NEXT LEVEL.
---
Do Something Creative Every Day,