Have you ever had one of those days when you got ink all over and glue on everything except where you wanted it? That's the kind of day I was having when I tried to use the NEW Blossoms in Bloom Bundle. Today's card is about KINDNESS. We need to be kind to ourselves. Give yourself permission to just make a mess and have fun! 
I love all the samples in the catalog and those that I've seen online using the Blossoms in Bloom Bundle. But I felt like Lucille Ball, and I definitely needed my Ethel, as I was trying to master the die-cut layering. I finally figured out how to use the multi-layered dies. And I have created several cards using the bundle. I am enjoying my new found skill. And the funny part of this whole process was – it's not hard to put the layers together if you are a little patient.
Here are the bundle and the Designer Series Paper that I used. The paper is no longer available. It was a 2020 Sale-a-Bration FREE product and only available for a limited time.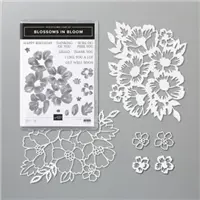 And here is my card
---
Before we jump into the instructions, let me give you a BIG TIP FOR GLUEING THIN LAYERS: 
USE a sponge wedge to dab on liquid glue.
First, clear your area of extraneous stuff and close your ink pad.
Then put the die-cut backside up

flat

on a scrap of paper or the craft mat then dab on the glue.
CAREFULLY pick up the gluey die-cut and line it up on the card or on top of the previous die (in the case of multi-layers).
Remove the glue laden scrap paper or craft mat from the immediate area.
Where did I go wrong? I tried to dab glue on the die-cut in the air. Stop giggling, you know you've done that too! It doesn't work with the big dies. I dropped the sponge on my work surface and created a sticky spot. Put die-cut down on the sticky surface and had little pieces (are they called chads?) stuck to it. Then put my hand on the inked stamp without realizing (because I did not close the ink pad, I know, sigh) until I was lining up the die-cut and left a big smudge on my project. Yep, everyone has done it! So, the card base was glued to my grid paper, chads were stuck between my gluey die-cuts, and ink was smeared on everything white. Deep breath. Clean it up and begin again. I had no presence of mind to take the photo – grr.
---
MEASUREMENTS (Supplies and Links are at the end)
Thick Whisper White Cardstock: 4-1/4″ x 11″ scored at 5-1/2″ plus scrap about 2-1/2″ square for sentiment

Pretty Peacock Cardstock: about 2-3/4″ square scrap for sentiment frame

DSP: Lily Impressions
PIECES AND PARTS

(

use any die-cutting and embossing machine)
STAMP THE BACKGROUND:
Stamp the large floral bunch in Melon Mambo directly on the Whisper White card base
CUT MULTI-LAYERED DIES:
Die-cut the thicker frame from patterned side of DSP

Die-cut the thin frame from the solid side of same DSP
PREPARE THE SENTIMENT:
Stamp sentiment on Thick Whisper White scrap in Pretty Peacock and die-cut using 2-1/8″ Circle die

Die-cut stitched frame using 2-3/8″ Stitched Shape die.
ASSEMBLY
Layer as shown. TIP: I trimmed off a couple leaves to make the die layers fit better. I took one of the leaves and added it to the other side.

Use Dimensionals behind the sentiment layer.

Grab a Whisper White envelope and add some coordinating DSP to the envelope flap. Make sure you can run your hand across it without 'flipping up' any paper.

Stamp your message on the inside of the card. TIP: When you use Thick Whisper White it is not necessary to have a separate panel for inside message. It is your preference.
Do you know what is really cool about this card? When you run your hand across the layered dies it makes you smile. I love the dimension!
I hope I did not scare you away from multi-layered dies. Buy this one and you will not be disappointed. Add it to your order today!
---
If you enjoyed this post, please be sure to…
Leave me a comment. I'd love to hear from you. What did you like and what would you like to see more of?

Please use this month's host code on orders under $150! Orders of $75 or more will receive a free gift from me!
Shop the LAST CHANCE PRODUCTS before they are GONE!

Stampin' Blends will be sold as Combo packs only in 20-21 catalog

Snail adhesive is being replaced by an easier to use 'dot-type' adhesive in two strengths

Aqua Painters will be sold in a 3 pack – to include a broad brush

Shop the Clearance Rack with discounts of up to 60%!
Read my Reasons to Join and why purchasing the $99 Starter Kit is the best decision ever!
Visit my project gallery for more paper crafting inspiration!
Learn more about Paper Pumpkin.
Don't miss a blog post. Subscribe to my BLOG NOW!  
---
Do Something Creative Every Day,
---
SUPPLIES (Click on any product to SHOP ONLINE 24/7)